Blog Archives
I was recently turned on to Oakland producer Antler after a friend came back from a tattoo appointment in which she listened to his music the whole time. The vibes coming from this Bay Area sound boy create the perfect atmosphere for a relaxing few hours of bliss. Have a listen to these two mixes featuring original tracks by Antler plus compositions by Shlohmo, Lapalux, Nicholas Jaar, Nosaj Thing, Curtis Mayfield, Aliyah, Little Dragon, Al Green and more.
Also, be sure to check out the newest album by Antler, entitled Winter in Honeycomb. 
Enjoy!
Tracklist:
Nicolas Jaar- Sunflower
Telefon Tel Aviv- Sound in a Dark Room
Little Dragon- Thunder Love
M83- Skin of the Night (Of Porcelain RMX)
Frank Ocean- Thinking About You (Antler RMX)
Curtis Mayfield- So in Love
Pharoah Sanders- Jewels of Love
Antler & Feldt- Dreaming of LA
Shlohmo-wen uuu
Antler- When Words No Longer Matter
Antler, Swan, & Feldt- Heart Murmur
Nicolas Jaar- Colomb
Lusine- Thick of It
Aaliyah- One in a Million
Al Green- Simply Beautiful
Led Zeppelin- No Quarter
Tracklist:
Sekuoia- Rather Not
Holy Other- Know Where
Aluna George- You Know You Like It (Lapalux remix)
Antler- Float (Unreleased)
Shlohmo- Rained the Whole Time (Nicolas Jaar remix)
Nosaj Thing- Eclipse Blue
Feldt- Shudder
Synkro- She Said
Antler- In Her Eyes
Evenings- Softly, We Go..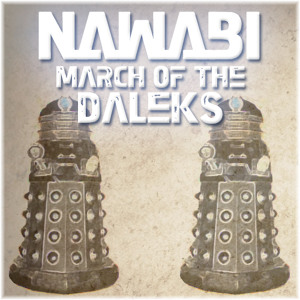 This new song from Nawabi of San Francisco, California, entitled March Of The Daleks seems to be nothing but 100% appropriate to be the theme song for one of the most evil extra terrestrial mutants ever to make it to our television.  For those of you unaware of what a Dalek is, please read on…
"The Daleks are a fictional extraterrestrial race of mutants in the British science fiction television series Doctor Who, created to be an emotionless "master race" bent on universal conquest and domination, utterly without pity, compassion or remorse. Various storylines portray them as having had every emotion removed except hate, leaving them with a desire to purge the Universe of all non-Dalek life. Occasionally they are shown as experiencing other emotions, primarily fear, although such occurrences are rare." – Wiki
Egon Brainparts of Bossasaurus (Oakland, CA) has brought us an incredibly beautiful remix of Doe Paoro's (Brooklyn, NYC) song, Born Whole.  This is some SEXY dubstep for all you bass ladies out there in the world.  For some reason the intro makes me feel like I'm in Miami in 1988…then the smooth melody distracts you and carries your heart and mind away to a world ruled by clean, hard hitting drums, crisp, bubbly wobbles, and an atmosphere consisting of glitchy goodness.  Egon Brainpart is just getting started this year, so keep an eye out for more tunes from him and the rest of this crew, Bossasaurus, here on GANJAOLOGY.ORG, on SOUNDCLOUD, and through their BANDCAMP.
Peace and Bass XXX