Daily Archives:
July 19, 2012
Here it is y'all! For the first time since selling out Neumo's alongside the famous Seun Kuti and The Egypt 80, AfroMassive – the California electro-funky Afro-beat orchestra will be hitting Nectar Lounge for an exciting return to Seattle.
These guys have been busy this year, touring up and down the Best Coast sharing their sounds with the masses. With support by The Unsinkable Heavies, an offshoot of The Polyrythmics, this show is sure to please.
AfroMassive is a collective of like-minded musicians looking to cultivate something uniquely different in our current diverse music scene. In honor of the musical legacy left behind by 70's Nigerian musician/activist, Fela Anikulapo Kuti, AfroMassive's stylistic approach takes it to another level. Utilizing Afrobeat's unique instrumentation and musical aesthetic, AfroMassive brings their own influences to the table; The incorporation of in-your-face funk, the improvisational nuances of jazz, elements of electronic music and hip-hop and other influences from the sounds of West Africa, Cuba, and Brasil, make AfroMassive distinctive and a real palette-pleaser. Some of the musicians in AFROMASSIVE are or were members of Bay-Area afrobeat cohorts, ALBINO! and have also been a part of such groups as Gamelan X, SaQi, Everyone Orchestra, The Monophonics, Jacob Fred Jazz Oddessy, Lagos Roots Afrobeat Ensemble, MooGot 2 and much more. The group was founded on Northern California's infamous counter-cultural hub of Humboldt County in 2007, but has really developed since relocating to the Bay Area the group has diversified its membership, its music and taken the sound to the next dimension.
Creating a dense musical tapestry filled with thick interlocking and guitars, heavy bass and intricate percussion paired with and in face horn section and driving drumset, AfroMassive diversifies its sound and its listeners by seamless fusing this timeless instrumentation with unique layers of synthesizers, electronic drums, and effects. Don't even think about missing your chance to experience this powerful group.
Here's a little sample of some live sounds to give you a taste of what's to come:
Grab you're tickets here!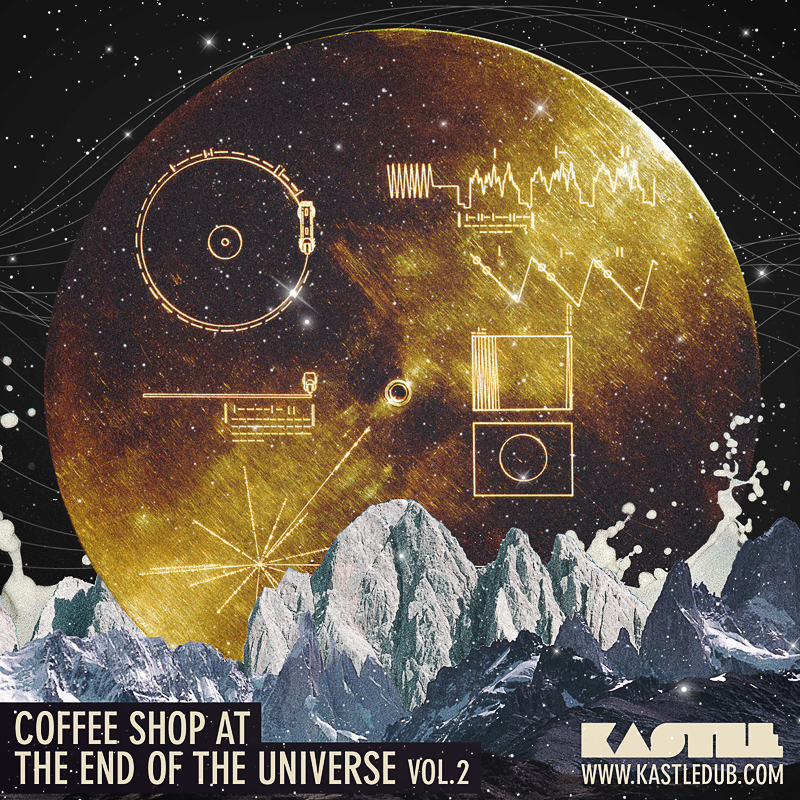 As we proceed into the outer reaching ends of our atmosphere, more and more elegant artists begin to find their way into our ear space. Then as we pause to reflect, we begin to realize that our efforts need not take us far. In fact, some of the most extraordinary elements are available in close proximity.
In this case, Kastle of San Francisco has collected familiar sounds and compiled them in a way that makes us question what's taken us so long to connect. With his series Coffee Shop At The End Of The Universe, Kastle brings us closer to home than ever. This mix series was created out of that element that lives deep within each of us, that divine data that directs our personal processors toward the light we long to embody. This is the element of love, and I believe that with this mix, Kastle has done just that.  He has created a collection of sound that comes from the heart and transmutes music into pure love.
It's worth reading what Kastle had to say about the mix, which is listed below. Enjoy and be sure to give thanks for the beautiful life you've been gifted.
Bless up.
This mix is a love story; a space romance. Inspired by the relationship of Carl Sagan and Ann Druyan and the compilation of the Voyager Golden Record. WNYC's Radiolab did an amazing story on the whole project with a very personal interview with Ann.
"Toward the end of the summer of '77, NASA launched two spacecraft as part of the Voyager Interstellar Mission. On board each craft was a golden record that included, among other things, the sound of a kiss, a mother's first words to her newborn child, music from all over the world, and greetings in 59 different languages. The spacecraft were designed to take close-up pictures of Jupiter and Saturn, then continue into the great expanse of space beyond our solar system. The records on board were meant to survive for a billion years, in the hope that some day, against enormous odds, they might cross paths with an alien civilization." – Radiolab
After a bit of sampling I've chopped the interview up and spread it throughout the mix. I hope you find the story as inspiring as I have: for the human race, for our place in the universe, for all that is possible and most importantly, for love.
Amazing artwork by Joyce Su - http://www.joycesu.com
Kastle – Coffee Shop At The End Of The Universe Vol. 2
01. Slabofmisuse – Diamonds
02. Portformat – U$ feat. Suzi Analogue
03. Vindahl – Down (Boom Clap Bachelors Remix)
04. Isaac Aesili – Can I B
05. Shlohmo – Places
06. Stac – Balls Bounce (Bonobo Remix)
07. Vondelpark – Hipbone
08. J Dilla – Two Can Win
09. Daru & Rena – Happy
10. Slakah the Beatchild – Things I Do (For Her)
11. Long Arm – The Waterfall Inside Me
12. Groundislava – Panorama feat. Jake Weary
13. Young Montanta? – Sacre Cool
14. Wanblake – Say To You
15. Vitaly Beskrovny – Love As The Dream